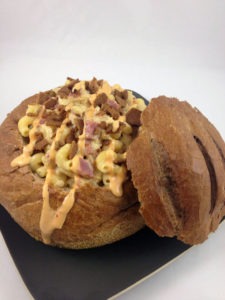 Last year I was asked to be part of the 2nd annual 30 Days, 30 Ways Macaroni & Cheese Blog, which takes 30 different food bloggers and pairs them each with a different cheese that they then use to come up with a unique macaroni and cheese recipe.
My cheese last year was Colby Jack, which I used to create a macaroni and cheese pie featuring a crust made entirely out of bacon as well as a bacon lattice top. To this day it's still one of the most popular posts on my blog. The problem with that recipe though (despite how delicious it turned out) is that most people don't have the time it takes to recreate it.
That's why when I was asked to participate again this year I wanted to come up with a recipe that could be prepared a little more quickly and easily, and I think I've done just that with my Reuben Mac & Cheese. I mean, Reuben sandwiches on their own are great, and macaroni and cheese is great, so why not combine the two?
So, with that I claimed Swiss as my cheese for this year's blog and got to work combining it with some pasta, corned beef, sauerkraut and a few other ingredients to create my Reuben macaroni and cheese. And what better way to serve it than inside of a giant loaf of hollowed out rye bread?
Want the recipe? Just head over to the 30 Days, 30 Ways Macaroni & Cheese Blog!