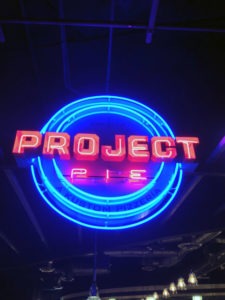 I stumbled across Project Pie while walking around the MGM Grand Hotel & Casino in Las Vegas one afternoon looking for something to eat after about 12 hours of non-stop drinking the previous day. The restaurant had opened up only a few days prior to my trip out there, and boy am I glad they did because their pizza ended up being the perfect way to not only start my day but also to soak up whatever excess whiskey was leftover in my stomach from the night before.
You know what I hate about ordering pizza? Waiting for it. Especially when I'm really, really hungry like I was on this particular day. Luckily, at Project Pie you don't have to wait long at all thanks to their 800° oven that cooks your 12 inch pizza in three minutes flat.
I'm getting a little ahead of myself though because first you have to either choose between one of their nine signature pizzas or build your own by starting with fresh pizza dough and adding any combination of the 24 ingredients they offer. It's basically a pizza version of Chipotle or Subway.
Each pizza costs $12 regardless of how many toppings you add so you might as well go all out, which is exactly what I did by topping mine with mozzarella, ricotta and Gorgonzola cheese, crumbled meatballs, bacon, mushrooms, black olives, green peppers and pesto. A few minutes later my pizza was out of the oven and ready to eat!
I'm not sure which was faster, the amount of time it took my pizza to cook or the amount of time it took me to completely devour it, but it was pretty close between the two! Man, I really hope Project Pie opens up a Milwaukee location at some point!