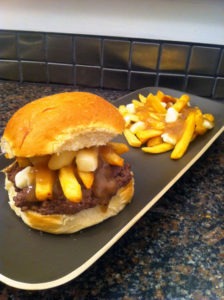 I first wrote about poutine (the popular Canadian dish that consists of fries covered in gravy and cheese curds) back in December when my buddy Jeff and I were down in Chicago and I tried it for the first time. Since then I've made it for myself a couple times at home, but this most recent time I decided to try something a little bit different and top a burger with poutine.
I started by grilling up the burger, and once it was done I topped it with some fries that I cooked in my oven. I then covered the fries with some white Cheddar cheese curds and spooned on some gravy. For the gravy instead of using your typical heavy beef gravy I've found that poutine tastes much better with a light chicken or turkey gravy. If you use too heavy of a gravy it can easily overpower the dish and take the taste away from the cheese curds and French fries. You'll also want to get your fries as crispy as possible, because if they're soggy to begin with covering them in gravy certainly isn't going to help things.
I'm still kind of amazed that poutine hasn't caught on in more places other than Canada. You'd think it would be especially popular here in Milwaukee where you can get cheese curds almost anywhere. I know that they started selling it this season at Miller Park, but I've been to four Milwaukee Brewers games so far and still haven't seen it at any of the concession stands I've stopped at. Red Dot has been serving it for a while, but other that that I've never even seen it in any other Milwaukee area restaurants. Seriously, how is this not huge in Milwaukee yet?