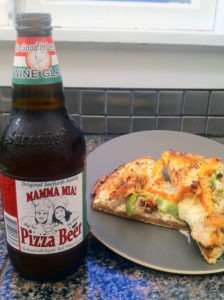 I came across this Mama Mia! Pizza Beer in the Sprecher Brewery gift shop and just couldn't resist buying a bottle to try. The beer (invented by a husband and wife in their home brewery, but bottled by Sprecher) is flavored with oregano, basil, tomato and garlic. Although it wasn't as bad as I thought it would be it really wasn't all that great either, and I'll tell you why.
The creators of Pizza Beer state that their goal was "to create a beer that would pair with a wide variety of foods, especially pizza." You know the taste you have in your mouth a couple minutes after you've finished eating a slice of pizza? That's sort of what this beer tastes like. The reason pizza and beer go so well together though is because they compliment each other. No one wants to take a bite of pizza and then wash it down with a beer that tastes similar to what they just ate. It would be like eating Thanksgiving dinner and then washing it down with a glass of gravy. It just doesn't make sense.
This beer would actually be a lot better if you drank it without eating pizza at the same time, but if you're going to be drinking something that leaves the taste of pizza in your mouth you might as well just eat some pizza and drink a beer you actually like instead.