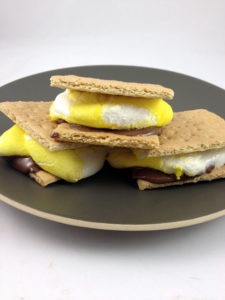 Yeah I know, this would have been a great blog post PRIOR to Easter, but it wasn't until two days ago when I was at Target and saw that all their Easter candy was 50% off that I thought about how awesome some Peeps s'mores would be.
After all, I've already made deep fried s'mores, s'moreos and s'mores quesadillas, so why not try another s'mores related creation? What's even better is that instead of regular Hershey's Milk Chocolate Bars I found some half priced Hershey's Easter bunny shaped chocolate to use along with the Peeps I purchased.
Generally I'm not a big fan of Peeps when they're on their own, but in s'mores form I actually like them a lot better. Their sugary exterior makes these s'mores a lot sweeter than traditional s'mores while adding a nice contrast in texture at the same time.
If you're looking to make your own Peeps s'mores I'm willing to bet that Target (as well as most other stores that sell Easter candy) still have some available at some pretty deep discounts. In fact, by now the markdowns are probably even more than 50%. I might have to go buy some more!