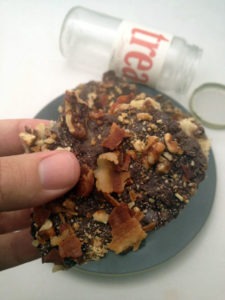 A couple weeks ago I got a jar of spiced pecans in the mail from Treat Bake Shop. Do you know what I love making with pecans? Pecan toffee. Do you know what I've never added to my pecan toffee? Bacon! Seeing as how I now had a fresh jar of roasted, seasoned pecans I figured what better time than now to try making some pecan bacon toffee.
Ingredients:
1 1/2 cups chopped pecans
6 slices bacon
12 ounces semi-sweet chocolate chips
1 cup sugar
1 cup butter
1/3 cup water
Start off by cooking your bacon and chopping it up into small pieces. Then, line a baking sheet with aluminum foil and cover it with one cup of pecans. Next, combine the sugar, butter and water into a saucepan, cook it over a medium heat for 15 minutes, pour it over the pecans and then sprinkle with the chocolate chips.
As they're melting, spread the chocolate around evenly and then cover it with the remaining pecans and the bacon before placing the baking sheet in your refrigerator to cool. After about an hour or two in the fridge the toffee should be brittle enough for you to break apart and enjoy!
The spiced pecans were pretty delicious on their own, but I've gotta say, they're even better when combined with bacon in toffee form!