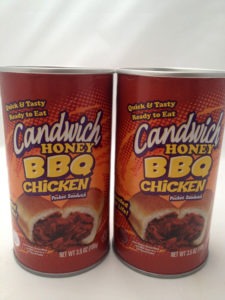 A little over a year ago I wrote about a company called Candwich that sells a peanut butter and jelly sandwich that comes in a can.
They claim that the sandwiches have a shelf life of a year, so I saved one and last month on the one year anniversary of my original blog post I poured myself a glass of milk, popped the top of the can and took a bite. Amazingly, it tasted exactly the same as the one I'd eaten 365 days prior.
Well, Candwich apparently saw my update and decided to send me a couple cans of their newest creation — a honey BBQ chicken sandwich.
Unlike the peanut butter and jelly sandwich in a can, which you have to assemble yourself, the BBQ chicken sandwich comes pre-made. In fact, the chicken is actually inside a pocket of bread.
Now, peanut butter and jelly are two things that I actually expect to last for a decent amount of time, but I've gotta admit, I was a little nervous about eating a BBQ chicken sandwich out of a can. In fact, I definitely paused for a few seconds and stared at it before taking my first bite.
Once I actually started eating it though I was pleasantly surprised with just how fresh the chicken actually tasted. For some reason I expected it to be really dry, but that wasn't the case at all. The fact that there are about 100 ingredients that I've never even heard of listed on the can makes me a little nervous, but as long as you can get past that the sandwiches aren't too bad at all.
If there ever really is some sort of zombie apocalypse do you know what I'll be doing while everyone else is stocking up on things like rice and beans? I'll be buying as many cans of honey BBQ chicken sandwiches as I can get my hands on!