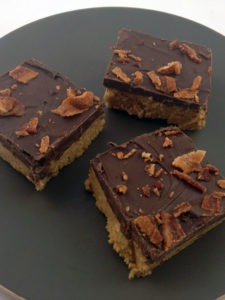 Back in November I got a box of nuts in the mail from Planters which I then used to make some pretty delicious bacon & almond pumpkin spice pancakes. Last week I received another package from them containing peanuts, pistachios, almonds and a few jars of Planters peanut butter.
Up until I opened that box I actually had no idea that Planters even produced a peanut butter, and as it turns out they apparently didn't until last summer. Since all this peanut butter would take me forever to eat if all I used it for was peanut butter and jelly sandwiches I decided that this was the perfect opportunity for me to try and come up with a recipe where I could use a decent amount of it.
After brainstorming for a few minutes I remembered that as a kid I used to love peanut butter bars. In addition to that, they're ridiculously easy to make. I did decide to make one small addition however and add some bacon to the recipe.
The peanut butter bars turned out just as great as I remembered them and the addition of bacon made them even better!
If I made them again I'd probably try adding a couple mashed up bananas as well to turn them into a desert version of the classic Elvis sandwich. Seriously, think how awesome those would taste!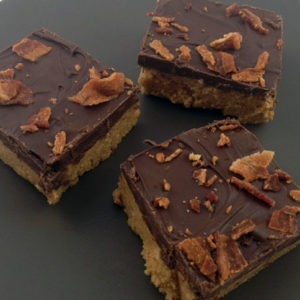 Peanut Butter Bacon Bars Recipe
Nick @ DudeFoods.com
It doesn't get much better than peanut butter, chocolate and bacon and that's why you need to make this recipe for Peanut Butter Bacon Bars!
Ingredients
3/4

cup

butter

1 1/2

cups

creamy peanut butter

2

cups

crushed graham crackers

2

cups

sugar

2

cups

chocolate chips

1/4

pound

bacon
Instructions
Start off by combining the butter, peanut butter, graham crackers and sugar in a bowl. After everything is mixed up nice and well spread the mixture evenly into a pan. I used a 9″ x 9″ pan for mine and it was the perfect size. At this point you'll wanna let the pan chill in your refrigerator for around 30 minutes before adding the layer of chocolate.

While the bottom layer is in the fridge you can start frying your bacon. The amount you use is totally up to you. I absolutely love bacon so I used a quarter pound of it, but I can totally see how that might be too much for some people. When your bacon is ready use a paper towel to blot off as much grease as you can and then chop it up into small pieces.

At this point a half hour should have passed and you can start melting the chocolate chips. I also added five tablespoons of peanut butter to my melted chocolate and then mixed 3/4 of my diced bacon in with it as well.

All that's left to do after that is to spread the melted chocolate over the bottom layer and then sprinkle the rest of your bacon on top of it. Another hour of cooling time in the refrigerator after that and your peanut butter bacon bars will be ready to eat!