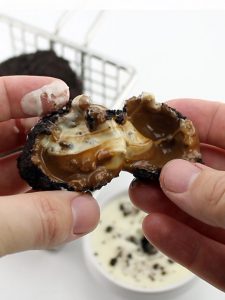 My buddy Jeff recently turned me onto the fact that for Easter this year Oreo is selling chocolate eggs that are filled with an Oreo creme filling.
Now, these things are already great on their own, but do you know what makes them even better? Breading them in crushed up Oreo cookies and deep frying them!
At first I was a little bummed that the eggs were so small, but after deep frying them and eating one I realize that they're actually the perfect size. Why? Because after being deep fried the filling is so runny and the chocolate is so gooey that if you tried eating them bite by bite instead of just stuffing them in your mouth one at a time you'd be in for a pretty huge mess.
I've included the recipe below, but the process to make these is as simple as it can get. All you need to do is pick up a few packages of Oreo Eggs and a package of regular Oreo cookies and then crush up the regular Oreo cookie discs, coat the Oreo Eggs in flour, dip them in an egg wash, cover them in Oreo cookie dust and drop them in a deep fryer.
Oh, and because I'm apparently gunning to be diagnosed with diabetes within the next year I also melted the Oreo cookie filling that I scraped out of the middle of my Double Stuffed Oreos and dipped my Oreo Cookie Breaded Deep Fried Oreo Eggs them in that.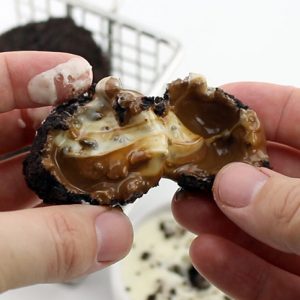 Oreo Cookie Breaded Deep Fried Oreo Eggs Recipe
Nick @ DudeFoods.com
Oreo Eggs that are breaded in crushed up Oreo cookies and dipped in melted Oreo frosting? The dessert of your dreams is here!
Ingredients
2

quarts

oil

for frying

3

packages

Oreo Eggs

1

package

Oreo cookies

2

cups

flour

3

eggs

1/2

cup

milk
Instructions
Heat oil in deep fryer or heavy skillet to 375°F.

Take Oreo cookies and sing a knife separate the frosting and the cookie discs and place in separate bowls.

Throw Oreo cookie discs into a blender and blend until fine.

Combine milk and eggs in bowl and whisk until smooth.

Coat each Oreo Egg in flour, dip in egg wash and cover in crushed up Oreo cookies. Repeat this process again if necessary.

Fry breaded Oreo Eggs for 90 seconds and drain on paper towels.

Microwave the bowl of Oreo cookie frosting for 60 seconds and serve with Oreo Cookie Breaded Deep Fried Oreo Eggs.