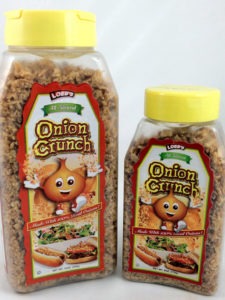 Back in April I got an email from a guy named Nick Loeb letting me know that he'd like to send me a sample of a new burger topping that he created called Onion Crunch. Attached to the email was a scanned page from Star Magazine with a quote from Modern Family star Sofia Vergara saying how she couldn't eat hot dogs anymore unless they were topped with Onion Crunch.
I thought the comment was a little weird until the magazine also mentioned that Sofia and Nick were dating. If I were dating Sofia Vergara the last thing on my mind would be creating a new food product. In fact, a majority of my time would probably be spent sitting around patting myself on the back for scoring a girlfriend as hot as she is.
After I got the Onion Crunch in the mail I put it in my cabinet and sort of forgot about it until recently when my wife was watching an episode of Extra and host Mario Lopez mentioned how Sofia and Nick had broken up. I guess it's good that he has this whole Onion Crunch thing to fill his time with now because seriously, how do you even date anyone else after you've already been with Sofia Vergara?
Anyway, now that I've gone all TMZ on you guys I should probably describe how Onion Crunch actually tastes right? The next day I happened to be grilling some burgers so I decided to sprinkle some Onion Crunch on one of them and I really enjoyed it. It tastes exactly how I'd imagine a bunch of diced up onion rings would taste. It's made from real onions too, which obviously helps, but Bacon Bits are supposedly made with real bacon and those always taste terrible and WAY too salty to me.
Seriously, how many times have you wanted onion on a hot dog or a burger so you slice up an entire onion just to use a quarter of it while the rest of the onion just sits around until you finally throw it away? Onion Crunch is the perfect solution to that problem. They also don't even mention this on the bottle in the list of intended uses, but I'm willing to bet that it tastes pretty awesome if you add it to meatloaf as well.