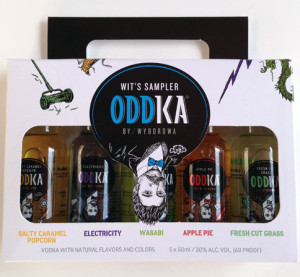 Alcohol… the key to my heart! I get a lot of free stuff sent to me in the mail from companies who want me to write about their products, but I'm always extra excited when the package on my doorstep contains something that's drinkable.
I still haven't had a chance to try any of these little bottles of ODDKA Vodka, but I'm definitely excited about them since they have some pretty unique flavors.
I'm a big fan of wasabi, so that flavor is probably the most appealing to me. I'm a little worried about the Fresh Cut Grass and Salty Caramel Popcorn flavors though. I mean, Fresh Cut Grass? I've never once said to myself "Hey, do you know what would make a great vodka flavor? Fresh Cut Grass!"
Who knows though, maybe Fresh Cut Grass tastes absolutely delicious…. Either that or there are just so many flavored vodkas out there these days that everything else is already taken. Either way, I'll be back soon with a full review on ODDKA Vodka so stay tuned!