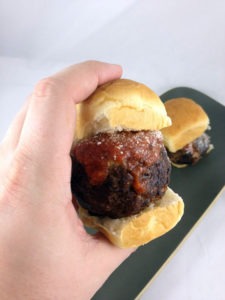 I don't have a cool story about how I came up with the idea for this blog post. I was just at the grocery store one day, saw a package of King's Hawaiian rolls and thought to myself "hey, you know what would be good? Stuffing some mozzarella cheese inside some meatballs and making little meatball sandwiches!"
A few minutes later I was standing in the checkout line holding the package of rolls, a pound of ground beef and a brick of mozzarella cheese!
When I arrived back at home I mixed the ground beef with an egg, some bread crumbs, yellow mustard and a couple different spices. After that I cut a few cubes of mozzarella cheese, rolled the meat around said cheese cubes and fried the meatballs in a pan with some olive oil. When the meatballs were done I topped each one with some pasta sauce and Parmesan cheese and placed them on the buns.
How large you want to make your meatballs is totally up to you. Mine actually turned out a little bigger than I planned, so aside from the small buns they actually weren't very "slider" like at all, but there sure were good! There isn't much better than biting into a meatball and tasting gooey mozzarella cheese.
Not a fan of sliders? I haven't tried it yet, but I'm pretty confident that these mozzarella cheese stuffed meatballs would also be pretty awesome in a sub sandwich.