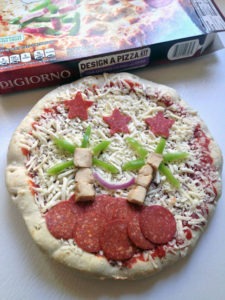 A couple weeks back I wrote about the new DESIGN A PIZZA™ kits from DiGiorno®. In case you missed it, they basically include everything you need to make your own pizza, meaning crust, cheese, toppings and even spices.
Last time I used the Pepperoni and Sausage with Peppers & Onions DESIGN A PIZZA kit by DiGiorno to create a pizza that I lovingly like to refer to as "Pizza Time." This time around my design was inspired by the less than stellar weather we've been having here in Milwaukee.
Even though it's technically summer it still seems like early spring. It's been raining non-stop, chilly, and for the most part, just downright gloomy. Waking up to that day after day I'm always thinking to myself about how I wish I could just spend my days relaxing on a tropical island instead of worrying about whether or not I need to bring a jacket to work even though it's now the middle of July.Seeing as how I've already used up almost all of my vacation days for the year though I did the next best thing to taking a tropical vacation, I re-created one in pizza form!
For my most recent pizza I used the Chicken, Green Peppers & Red Onions with Pepperoni DESIGN A PIZZA kit to create a tropical-themed pizza complete with chicken and green pepper trees, a red onion hammock and pepperoni stars in the sky, and although I would have really enjoyed eating this pizza someplace much warmer than Wisconsin is right now the fact that it was completely delicious made up for the fact that I was instead forced to sit at my kitchen table enjoying it while watching rain pour down outside my windows.
I said it in my last post about the DiGiorno DESIGN A PIZZA kits and I'll say it again, they're a definite game-changer when it comes to frozen pizzas. Seriously, if I have this much fun with them I can only image how enjoyable they must be for families with children. I guess what I'm saying is that DiGiorno DESIGN A PIZZA kits are pretty much perfect for anyone!
I was compensated by DiGiorno® for this post. All opinions expressed within are my own.