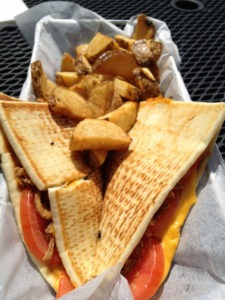 Normally when a bar or restaurant claims that they have the "best burger in town" or " world famous sandwiches" their food never actually lives up to the hype. Best in town according to who? The Owner? The guy that cooks it?
I can sit here and tell you how I make the best French toast in the entire country, but if you actually tried it I'm sure that you could at least think of at least a couple instances where you've had better. For the record though I do make some pretty stellar French toast….
The one claim that I can definitely agree with however is that when The Irish Pub refers to the grilled cheese on their menu as "Milwaukee's Largest Grilled Cheese Sandwich" they're dead on.
A giant grilled cheese is completely pointless if the sandwich itself isn't actually good though, and luckily The Irish Pub delivers. The humongous sandwich consists of American and Cheddar cheese, crunchy fried onions, tomatoes and bacon between grilled flatbread.
I always sort of forget how much I enjoy flatbread until I end up ordering the occasional sandwich that happens to be served on it. Then again, the flatbread is probably a necessity in this instance because I doubt that The Irish Pub would be able to find any other type of bread that would actually be large enough for this sandwich.
This was also the only time in recent memory that I've finished a grilled cheese and I've actually been full afterwards. The pile of delicious thick cut fries that were included with my meal might have played a small part in that though….