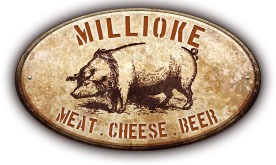 Restaurants located inside hotels often get a bad rap. You know what though? Most of the time it's well deserved because honestly, a lot of them just aren't that good.
Think about it, when you constantly have a steady flow of new customers that are staying right upstairs from your establishment you usually don't have to try very hard because most of them are only in town for a short while and won't be coming back anyway. There are a few exceptions to this rule however, and Millioke — which you can find inside the Marriott hotel in downtown Milwaukee — is one of them.
I was recently invited to a tasting event at the restaurant and although I originally considered passing on it due to an extremely busy week I'm definitely glad that I decided to attend. What followed was two straight hours of delicious food and drink. Oh, and by "drink" I mean beer, lots and lots of beer….
The folks behind Millioke state that with their new restaurant they wanted to "create an atmosphere that embraces the very best of the community," and they've done exactly that. From the numerous Wisconsin cheese and sausage offerings to the great selection of local beers you can definitely find a great sampling of what Wisconsin has to offer.
As you can see from the photos below, I sampled a pretty big portion of the menu. My favorites were probably the Grilled Baby Back Ribs and the Beer Cheese Fondue, but everything else was really, really great as well.
The most surprising dish of the night had to be the Pan Seared Walleye Pike. I'm more of a red meat fan and usually shy away from ordering fish at restaurants, but everything about the Walleye at Millioke was perfect, right down to the homemade coleslaw that it was plated on. Maybe it was the addition of the lemon caper brown butter that was drizzled over the fish that made it so great, but whatever it was, I loved every single bite of it.
I guess the moral of this story is that the next time you're about to brush off a restaurant just because it's located inside a hotel you might wanna give them a second chance because like Millioke, you might just find a diamond in the rough.