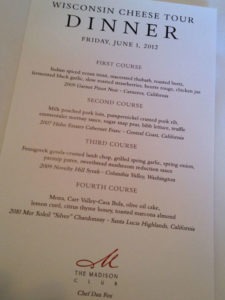 I wrote two weeks ago about the Wisconsin cheese tour that I was lucky enough to be a part of earlier this month. We eventually ended our long first day with dinner at The Madison Club. Actually, my night ended much, much later with drinks at Merchant, but The Madison Club dinner was more of the official end to our day.
Oh, and when I say "long first day" I'm not complaining by any means. I got to ride around on a sweet coach bus all day long drinking beer and eating cheese and then got to follow it up with an amazing dinner. How can you complain about that!?
At dinner we were joined by Sid Cook of Carr Valley Cheese and Bob Wills of Cedar Grove Cheese. We started off with a few different appetizers and some drinks as we listened to them talk about their experiences with the cheese making process.
A short while later we sat down for dinner and were served our first course which consisted of a small bowl of Japanese custard, followed by a piece of spiced ocean trout. Aside from ahi tuna I'm not usually a fan of fish, but this trout might have single-handedly convinced me that I need to start giving it more of a chance.
The trout was also served with beets, which is another food that I usually shy away from, but in this case they paired perfectly with the fish. It's funny how you can think that you don't like certain foods, when in reality you've probably just been eating really poorly prepared versions of those foods your entire life.
Course two was a pumpernickel crusted pork rib sitting on top of a milk poached pork loin. I really wish I had the recipe for the sauce that covered this dish, because if I did I'd be spooning it on top of every single piece of meat I ate in the foreseeable future.
Although all the food we ate that night was delicious, the next course — Gouda-crusted labmchops — was probably my favorite of them all. Like the previous dish this one also had a sauce that I just couldn't get enough of.
For our final course we were served olive oil cake, along with shavings of two different cheeses — Carr Valley's Caso Bolo and Cedar Valley's Mona. Cake and cheese are two foods that I never imagined would pair well together (not counting cream cheese and cheesecake obviously), but after finishing my desert in about 30 seconds I was left wondering why more chefs don't try the combination.
All in all it turned out to be one of the best dinners I've had in quite some time. I'm normally a burger and beer kind of guy, so fancy meals like this are a little different than what I'm used to, but I'm definitely glad I got a chance to eat at the Madison Club.