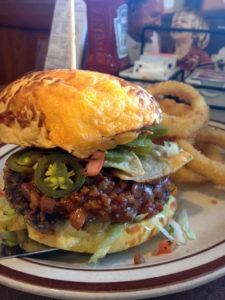 Denny's recently launched a new build your own burger menu and asked me if I wanted to check it out. I've never been one to pass up a free meal so I obviously said "yes" and three days later I had a Denny's gift card waiting for me in my mailbox.
Now, plenty of places have already done build your own burger menus before, but what I love about the one from Denny's is the multitude of awesome toppings that they offer. Want hash browns on your burger? How about some mac 'n cheese or a pile of onion strings? They've got you covered with all of those and plenty more!
Not feeling quite so creative? They've also added a few new specialty burgers like the Macho Nacho Burger, which is the one I ordered on my most recent visit. I think part of the reason that this specific burger appealed to me is because it totally reminds me of something I'd make myself at home.
The Macho Nacho Burger consists of a beef patty that comes topped with Cheddar cheese, chili, lettuce, sour cream, pico de gallo, jalapeños and tortilla chips. Oh yeah, and it comes served on a pretty awesome Cheddar top bun. It was delicious. It actually reminded me a lot of the burger I had at Nicky Rottens in San Diego last year.
The menu, along with a brand new "build your own" milk shake menu that they're also offering, is available for a limited time only so if you're planning to check it out it's probably a good idea if you don't hesitate. In the meantime I'll be headed back soon to try a hash brown, fried egg, mac 'n cheese, bacon and avocado burger!