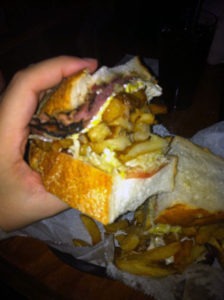 If you've never had the pleasure of trying an overstuffed sandwich you're missing out. The sandwiches were made famous in cities like Cleveland and Pittsburgh, and Lucky's brought the concept to Chicago in 2004. If you're unfamiliar with what exactly an overstuffed sandwich is, it's basically just a giant sandwich stuffed with your choice of meat and cheese along with french fries and coleslaw. In fact, an overstuffed sandwich could be the perfect example of a "dude food" just because of the simple fact that it involves taking everything that would normally take up an entire plate and shoving it all into one sandwich.
Lucky's actually has an eating challenge as well where if you can finish three of their overstuffed sandwiches in under an hour the third sandwich is free and you get a free t-shirt and your picture on their wall, and if you can finish in under 30 minutes all three sandwiches are free. Considering that in the previous 36 hours I'd already done the "Big Timmy Challenge," eaten a pile of sushi and dined at a couple other restaurants as well I decided to just stick with one sandwich and save this eating challenge for the next time I visit the windy city.
For my sandwich I went with the pastrami and cheese, and for an extra 50 cents Lucky's also added a fried egg to it. I've said it before and I'll say it until the day I die (probably of a massive heart attack), anytime you can add an egg to your burger or sandwich it's always a smart idea to do so. The sandwich was great, although quite messy as you can probably imagine. Plus since my wife could only finish half of her overstuffed turkey sandwich I got to eat the rest of that too. Score!