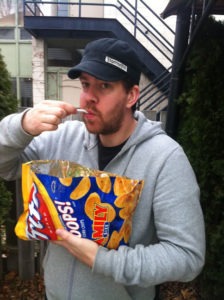 Yeah, the Walking Taco is great and all, but what are you supposed to do if you're REALLY hungry? That's how I came up with the idea for the "Walking Taco Supreme." Instead of a snack size bag of Fritos I opted to go with a family size bag. Instead a few ounces of ground beef I went with almost three pounds of it plus a rotisserie chicken.
I then completed my Walking Taco Supreme by adding two tomatoes, a head of lettuce, chunky salsa, sour cream, nacho cheese, shredded Mexican cheese, green chilies and some homemade guacamole.
The only downfall of the Walking Taco Supreme? By the time you actually eat your way all the way to the bottom of the bag the Fritos are pretty soggy.