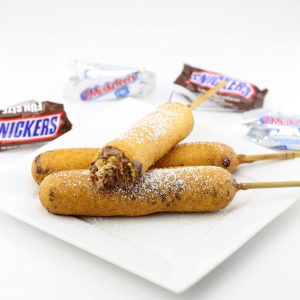 I know that I'm referring to these as Leftover Halloween Candy Corn Dogs, but in reality I guess I should call them something more like "the candy I decided to keep for myself and not give out to the kids that came to my door during trick-or-treat corn dogs" instead.
The concept behind these is pretty simple — instead of skewering a hot dog, dipping it in corn dog batter and deep frying it I decided to do the exact same thing, but with candy bars instead.
For my corn dogs I used fun size Snickers and 3 Musketeers bars, which are pretty similar, but you could also go the route that I did with the sausages when I made my Racing Sausages Corn Dog and just put a ton of different candy on each stick so you get a little something different with each bite.
I wasn't even sure if this idea would work at all since I sort of just assumed that the candy bars would melt too quickly causing everything to just disintegrate into a huge mess in my deep fryer, but I froze them prior to frying which seemed to do the trick. Some of the chocolate did soak into the breading of the corn dogs though, but that just made them taste even better, while the nougat center of both candy bars I used got nice and gooey, but stayed pretty much intact. I then finished off my corn dogs by sprinkling powdered sugar on top of them and dipping them in chocolate syrup.
These are basically the perfect dessert to eat after you pound down a couple Breakfast Burrito Corn Dogs, Pulled Pork Corn Dogs, Flamin' Hot Cheetos Corn Dogs or Macaroni and Cheese Corn Dogs!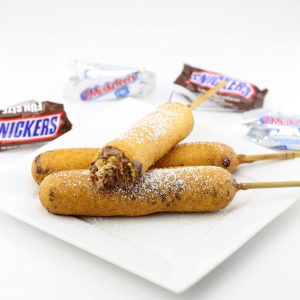 Leftover Halloween Candy Corn Dogs Recipe
Nick @ DudeFoods.com
Did you end up with a bunch of leftover Halloween candy after trick or treat was over? Put the candy bars on a stick, dip them in corn dog batter and deep fry them!
Ingredients
2

quarts

oil

for frying

Enough candy bars to fill 4 corn dog sticks

4

corn dog sticks

or chopsticks if you can't find corn dog sticks

1

cup

cornmeal

1

cup

flour

1/4

cup

sugar

1/4

teaspoon

salt

1/8

teaspoon

pepper

4

teaspoons

baking powder

1

egg

1

cup

milk

Powdered sugar

Chocolate syrup for dipping
Instructions
Slide candy bars onto corn dog sticks and freeze for at least 30 minutes.

Heat oil in deep fryer or heavy skillet to 375°F.

In a bowl, combine cornmeal, flour, sugar, salt, pepper and baking powder. Stir in egg and milk.

Transfer corn dog batter to a tall glass and dip the skewered candy bars one by one into the batter.

Fry corn dogs for 3 minutes or until golden brown.

Drain on paper towels, coat with powdered sugar and serve with chocolate syrup for dipping.