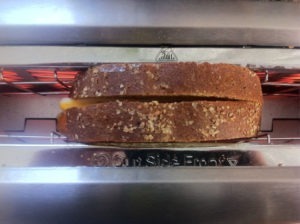 Earlier this summer I held a contest here on DudeFoods where one lucky reader won a Versatility 6 Quart Slow Cooker courtesy of West Bend Housewares. They even gave me my own slow cooker so I could make the winning recipe. While I was emailing back and forth with West Bend regarding the contest I also mentioned how cool I though their QuikServ Toaster looked, and being the awesome company that they are they offered to send me one of those as well! On a related note, hey Nintendo, if you're reading this I think the Nintendo 3DS looks pretty great! Anyway, back to the toaster…
You see, I have a weird obsession with buying kitchen appliances. As of right now my kitchen countertop contains a quesadilla maker, a sandwich maker, an omelette maker, a panini maker, a Ninja Blender and a Belgian waffle maker. As you can probably imagine, this makes for quite a cluttered countertop, which is why I love the West Bend QuikServ Toaster, because it sits flush against the wall and takes up far less room than my old toaster did. Another unique feature of this toaster is that instead of the bread popping back up when it's done being toasted, it falls out the bottom into a drop-down serving tray.
One day recently I was all set to make a grilled cheese on my stove top the old-fashioned way when I thought to myself "What if I just buttered a couple slices of bread, threw some cheese in between them and sent the sandwich through my West Bend toaster?" This certainly seemed a lot easier and less troublesome than frying my sandwich in a pan on my stove, and on top of that I wouldn't have to worry about flipping it since both sides would cook at the same time. I didn't try using my toaster to make a grilled cheese that day, but the idea definitely stuck in the back of my head for a while.
I told a couple of my friends about my idea ahead of time and they all thought I was crazy, but you know what? I finally tried it and it worked, and a delicious grilled cheese sandwich with Cheddar and Swiss cheese was the result! I was a little worried about the cheese melting and dripping out from in between the bread, but as you can see from the pictures, there isn't really anywhere for it to go with this toaster since the bottom is completely flat until the toaster is done toasting and the bottom opens up so your bread can slide into the drop-down serving tray. The only problem I came across was that I didn't have the toaster set on a high enough setting at first, and I had to send the sandwich through twice, which burnt the edges a little bit. I'm pretty confident however that with some minor tweaking my West Bend QuikServ Toaster could turn into a full fledged grilled cheese making machine!
On a related note, West Bend is celebrating their 100th anniversary this year, and they're throwing quite the party. It's taking place this Sunday, September 25th and is completely free and open to the public, so if you live in or near West Bend, Wisconsin you should definitely check it out. They're hosting a free pancake and Klement's Sausage brunch, selling West Bend items for up to 50% off regular retail prices and planning a slew of other activities. If you'd like more information on the anniversary celebration you can find it on their Facebook event page.