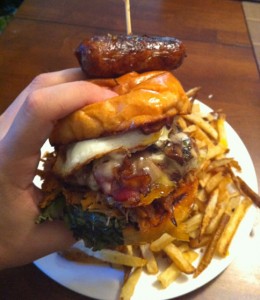 After three different people specifically told me that I need to try the "Local Yokel" burger at Honeypie Cafe, and after hearing what it consisted of (a burger topped with BBQ pork, Swiss cheese, bacon, caramelized onions, mushrooms, beer battered jalapeño sticks, ranch dressing and a sunny side up egg on an egg glazed bun with a giant breakfast sausage skewered on top), I knew that I had to head down there as soon as possible to check it out.
We arrived a little after 2pm on a recent Sunday, were seated at a table and our drink order was taken. After waiting about ten minutes the waitress finally returned to take our food order and bring us our drinks. When it was my turn to order I let the waitress know that I'd like the Local Yokel. I was informed however that they don't start serving it until 3pm when brunch is over. This wouldn't have really been a big deal if she hadn't made it a point to tell us to check out the specials (one of which was the Local Yokel) when she handed us our menus. I know that trying to serve both brunch and non-brunch items at the same time is probably tough due to the small kitchen that Honeypie Cafe has, but if they could figure out a way to make it happen then a burger like this would be perfect for the brunch crowd.
I didn't want to make the other people that I was with wait until 3pm to order, so I suggested that they get their food and eat it and that I'd just order my burger to go once they stopped serving brunch. Plus I had a Beermosa (a mix of beer and orange juice) to tide me over until then anyway. Once 3:00 hit I ordered my burger, waited for it, we paid our bill and I headed home.
As soon as I arrived back at home I made a beeline for the microwave and heated up my burger and then sat down at the table with it and took a bite. I was a little worried that after the burger sat in a to go box for a while and then was reheated that it might not taste so great, but that wasn't the case at all. I can only imagine that it would have been even better had I eaten it at Honeypie instead of getting it to go. A lot of the time when restaurants pile so many toppings on a burger all the various tastes don't necessarily blend too well together and you can tell that they're doing it more for shock value than anything, but with the Local Yokel you can tell that the proprietors of Honeypie actually made it a point to make sure that all the toppings on this burger complimented one another.