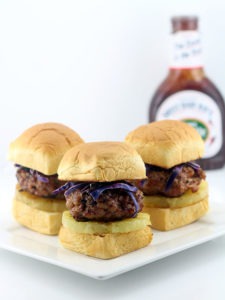 Sweet Baby Ray's recently shipped me a box of their sauces and asked me to come up with a recipe using them, which is actually pretty awesome because although I've had their Original Barbecue Sauce plenty of times throughout my life I've never tried any of the others that they offer.
Plus, it gave me another chance to use my grill before the inevitable cold weather and snow come to Wisconsin sometime in the next month and I'm forced to move it into the garage for the season.
Don't get me wrong, I'll still wheel it out every now and then over the course of our seemingly never-ending winter and grill in the middle of my driveway, but it's just not the same being able to sit on my patio in a pair of shorts drinking a beer while the smell of burgers and brats fills the backyard.
For the recipe I decided to make some Hawaiian Pork Sliders using Sweet Baby Ray's Honey Chipotle Sauce. They claim that it's their spiciest sauce yet, so it seemed perfect to pair it with the sweetness of grilled pineapple slices.
For my sliders I combined a pound of ground pork with 1/4 cup Sweet Baby Ray's Honey Chipotle sauce, plus some salt and fresh ground pepper. It's as simple as that! I then formed the meat into six equal sized slider patties and threw them on my grill. When they were finished I took King's Hawaiian rolls and topped them with grilled pineapple slices, my slider patties and some red onion.
What I ended up with were some of the juiciest, most flavorful burgers I've ever had. Even my wife who will never even normally touch a burger ate one! The sauce — although spicy — already has it's own sweetness on account of the honey, and that paired with the pineapple and sweet King's Hawaiian rolls? Pretty much the perfect combination….
Are as much of a fan of grilling as I am?  If so then you should probably head on over to BeyondTheBackyard.SweetBabyRays.com where in exchange for submitting your best tailgate party pic you'll have a shot at winning a custom Sweet Baby Ray's grill kit, t-shirt and a year's supply of sauce! They're announcing new winners weekly, so what are you waiting for?