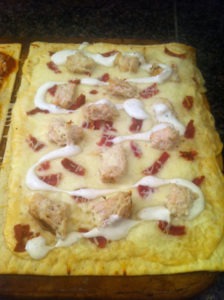 My wife bought some flatbreads recently for us to use instead of regular bread when making sandwiches (I think she's secretly trying to get me to eat healthy), but they tasted terrible. They literally had no flavor at all. In addition to that, as soon as you folded them they would crack and break apart. Needless to say, we tried one flatbread each and after that they just sat on top of our microwave for a few days. I didn't want to just toss them out though so I came up with another use for them; pizza crust.
I started off by throwing a boneless, skinless chicken breast and an Italian sausage on the grill and frying up some bacon on my stove. Once everything was done cooking I grabbed two of the leftover flatbreads and kept the first one pretty traditional by topping it with pizza sauce, slices of Italian sausage, pepperoni and mozzarella cheese. I then covered the second flatbread with Alfredo sauce, chicken, bacon and mozzarella cheese. After 12 minutes in the oven my flatbread pizzas were ready to eat!
Not only did these pizzas taste great, but they'd also be a great meal idea for families who all like different toppings. All you need to do is grab a package of flatbreads and everyone can just top their own personal pizzas with whatever they like. So there you have it; One Republic Artisian-Style Flatbreads — terrible for sandwiches but awesome as pizza crust!