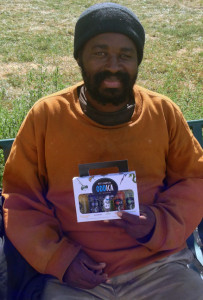 I mentioned a couple weeks back that ODDKA Vodka recently sent me five of their new flavors to try out. They were also nice enough to include some recipes, but the problem with the recipes was that a majority of them included things like rose water or cardamom — things that I either didn't have or just flat out didn't even know what they were.
So, I decided to take the vodka to the streets instead! Oh, and by "streets" what I really mean is "homeless people," because honestly, who knows more about drinking than homeless people right?
I headed to downtown Milwaukee where within minutes I met Edward, who described his favorite drink as "anything I can get my hands on." I asked him if he'd be interested in reviewing some new vodka flavors with me and told him that I'd even pay him $20 for his time. "Wait, so you're gonna pay me to drink vodka with you!?" was his initial reaction.
He definitely seemed a little leery at first, but after I assured him that yes, all I really wanted to do was hang out with him and drink some ODDKA Vodka he instantly warmed up to me.
In the 30 minutes that followed Edward and I talked about life, our aspirations for the future — he was looking forward to getting the boot off of his broken foot before winter hit so he could finally wear a shoe again — and sampled all five of of ODDKA Vodka's new flavors.
Out of the five flavors we tried — Apple Pie, Electricity, Fresh Cut Grass, Caramel Popcorn and Wasabi —  my favorite was Apple Pie, Edward's was Wasabi. "Woo woo! That stuff has some kick!" he exclaimed as he took a swig of it.
Edward also had some strong thoughts about the Fresh Cut Grass prior to tasting it. "Fresh cut grass? Why the hell would you wanna drink fresh cut grass?" he questioned. After trying it he changed his tune however…. "Now normally I never would have tried a flavor called Fresh Cut Grass, but you know what? This stuff is alright! They gotta do something about that name though…."
So, there you have it folks! According to Edward ODDKA makes some pretty decent tasting vodka. Right now I know that you're probably inundated with the ridiculous amount of flavored vodkas out there, but the next time you see ODDKA Vodka at your local liquor store or watering hole you might just wanna give them a try!