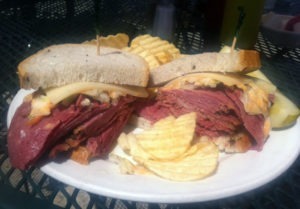 If the Hear-O-Israel sandwich sounds familiar to you it's probably because you saw it on Man v. Food Nation's Milwaukee episode when host Adam Richman stopped at Benji's Deli to try it. It's funny because I usually eat lunch at Benji's once a month or so, but since they serve breakfast all day long and since I'm a huge proponent of eating breakfast for lunch and dinner I've never even glanced at the rest of their menu and in turn never noticed this amazing sandwich until I saw it on TV.
I stopped in this past week for lunch and in lieu of the omelette or pancakes that I usually get I instead opted for the Hear-O-Israel, and it was every bit as glorious as it appeared to be on TV. How can you go wrong with corned beef, pastrami, salami, pepper beef, Swiss cheese, coleslaw and Thousand Island dressing all in one sandwich?
Benji's Deli is one of those places that I hate blogging about. Not because they don't have great food, or because I'm under the false impression that it's some sort of Milwaukee secret and I don't want word about it to get out (they've actually been open over 35 years and have always been crowded when I've stopped in), but because the food is so good that rather than having to worry about taking pictures of my plate for my blog while I'm eating I'd much rather chow down on their delicious food as fast as possible.