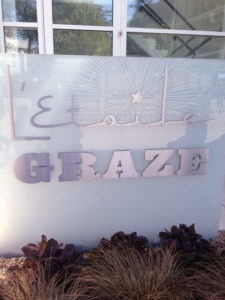 How do you top a day of non-stop cheese eating followed by a fancy dinner at the Madison Club? You head to Graze the next morning for brunch!
Graze, which is located right on the Capital Square in Madison, Wisconsin, is pretty much the epitome of a locally sourced restaurant. In fact, if you flip over their menu you can actually see where they obtain all their ingredients, from their beef and chicken all the way down to their tomatoes, radishes and cilantro.
Whereas the food at our dinner the previous night was chosen for us, executive chef Tory Miller of Graze gave us free range of the menu, allowing us to order anything, and everything, that we wanted.
I started off with a drink called the Retox, and after tasting it I quickly learned that food isn't the only thing they do well at Graze. The mixture of Brazilian rum, maple syrup, lemon juice and cayenne was the perfect way to start my Saturday morning.
After drinks were ordered it was onto the food! I started off by sampling a couple beignets (which are French pastries topped with powdered sugar in case you're not familiar with them), fried cheese curds and a board full of various, amazing Wisconsin cheeses. Can you tell how much we love cheese here in Wisconsin?
A while back I mentioned how the fried cheese curds from AJ Bombers were some of the best I've ever had, but I think the ones from Graze might be even better. Maybe it was the vodka batter that they use or maybe it's because of how fresh the cheese was since it came from Sassy Cow Creamery, which is located a mere 22 miles away from the restaurant, but there was just something about them that I couldn't get enough of.
Just when I thought my meal couldn't possible get any better our waiter dropped of the croque madame that I ordered. The grilled sandwich consists of smoked ham and Pleasant Ridge Reserve cheese between two slices of brioche bread and is topped with a sunny side up egg. If I wouldn't have paused to take a few pictures of it I'm pretty such that I could have finished my sandwich in about 20 seconds. It was THAT good.
30 minutes later we were back on our coach bus headed home to Milwaukee and I was fast asleep, exhausted from an amazing 36 hours of cheese eating, drinking, more cheese eating and even more drinking. Hey Wisconsin Milk marketing Board, when are you hosting your next blogger cheese tour and can I RSVP for it right now? Thanks!