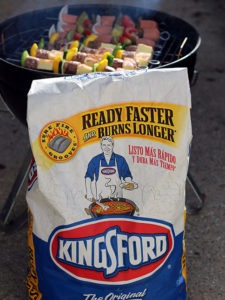 Football season is finally here and I couldn't be more psyched. Being from Wisconsin I'm obviously a huge Packers fan so after watching them collapse in last season's NFC Championship game I've been pretty eager for the new season to start so they could finally have a shot at redeeming themselves.
Kingsford Charcoal also recently asked me to host a game day grill off to show how barbecue and tailgating can bring fans together no matter what team they're rooting for so I figured that this past Sunday's week one game against the Bears was the perfect opportunity for this.
After all, as the NFL's longest running rivalry not only are you always guaranteed a great game — more so recently for Packers fans — but aside from that my buddies and I usually get together with a few friends of ours that are Bears fans for the two games a year that the teams meet anyway so I suggested that for this game everyone stop over at my place.
Aside from the usual game day spread of burgers, wings and hot dogs I wanted to throw something special on the grill for fans of both teams, so after thinking it over for a while I decided to create some Packers and Bears themed kebabs.
For the Packers kebabs I combined brats and Carr Valley's Bread Cheese — which is a take on Finland's Juustoleipa cheese that's often served fried — with green and yellow bell peppers and zucchini that I got from my local farmer's market, because there's nothing more manly than hitting a farmer's market and then watching some football right?
Now, brats are great on their own, but do you know what's better? Beer brats! The way I've always made them is to start them off in a pan on my stove with three or four cans of light beer, a diced onion and a couple tablespoons of butter for about 10 – 15 minutes. After that you just need to throw them on the grill for 10 minutes or so to finish them off!
If you're tailgating or just generally don't feel like leaving your back yard you can also just put a Dutch oven or aluminum foil baking pan right on the grill, pour the beer in there and get your beer brats ready that way. Or you can just leave out the beer and skip this part of it completely, but why would you want to?
Although some sort of deep dish pizza kebab would have been amazing I decided to replicate a Chicago style hot dog with the Bears themed kebabs, so in addition to jumbo Vienna Beef franks they consisted of onions, tomatoes, pickles and sport peppers and were topped with relish.
So, as we all sat around drinking beer and enjoying our food we were treated to a much closer game than any of us expected. In fact, the Bears actually led by three at halftime which I don't think any of us saw coming. I'm happy to report though that when it was all said and done the Packers were victorious once again, but even after the loss the Bears fans seemed cautiously optimistic for the upcoming season after the game pretty much came down to the wire, unlike the two games the teams played last year where the Packers outscored the Bears by a combined score of 93 – 31.
Oh, and if you make these be sure to remove the Chicago style hot dog kebabs from the grill before the brat and cheese kebabs, because much like the Chicago Bears they just can't handle the heat and you don't want them to end up burnt the same way Aaron Rodgers burned the Bears secondary for three touchdowns on 18/23 passing.
Alright, enough… just like the Bears had enough of James Jones after his first two touchdown catches and decided that pass interference was a much better option for them than trying to defend what would have surely been his third of the day late in the fourth quarter.
On a serious note though, there's not much more you can ask for than delicious food and a great game with good friends and that's what we had. And to all my friends that are Bears fans we'll see you again in November!
Disclosure: I've received compensation for this sponsored post, but all opinions are my own.