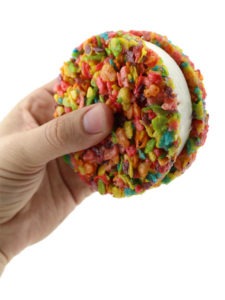 If you've followed this blog for a while then you probably know that when an idea of mine works I pretty much continue doing variations of that same concept until I basically run it into the ground.
Back in April I made a Fruity Pebbles Ice Cream Cone and it was a pretty big hit. In May I followed it up with a Cocoa Pebbles Ice Cream Taco, which people again seemed to love. Then, last month I made Ice Cream Pebbles Breaded Deep Fried Ice Cream, so it should really be no surprise that I'm back with a fourth installment of what — at least for the most part — is the same exact thing.
To make these Fruity Pebbles and Cocoa Pebbles Ice Cream Sandwiches I followed the exact same steps that I did with their first two predecessors and melted three tablespoons of butter in a saucepan over medium heat and then stirred in ten ounces of marshmallows. After that I added six cups of cereal, flattened the mixture out on a baking sheet, let it cool for about 30 minutes and then used a doughnut cutter to punch out circular Fruity Pebbles and Cocoa Pebbles discs. In lieu of a doughnut cutter an upside down glass would also work.
To get perfectly circular ice cream centers I highly recommend using a reciprocating saw and just cutting slices off of a pint of ice cream. Check out my Bacon Weave Ice Cream Sandwich post to see what I'm talking about. A nice sharp knife would probably work just as well, but you'll never see me pass up an opportunity to use a reciprocating saw. Especially in my kitchen….
These Fruity Pebbles and Cocoa Pebbles Ice Cream Sandwiches were definitely the easiest to make of the two similar recipes and just as delicious. Plus this idea would literally work for any cereal you want,, so if you're not a fan of Fruity Pebbles or Cocoa Pebbles — although I can't understand how you wouldn't be because they're both delicious — feel free to use Cheerios, Cap'n Crunch, Froot Loops or whatever else your little heart desires.