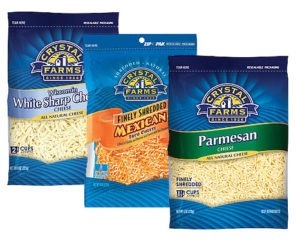 And by "all" what I really mean is "ten of you." Crystal Farms Cheese is holding a recipe contest and asked me to help spread the word. It's all going down Labor Day weekend in Lake Mills, Wisconsin and they're looking for recipes in three different categories; hot cheese dip or fondue, cold cheese ball or spread and macaroni and cheese.
The first place winner in each category will receive a one year supply of Crystal Farms cheese, the second place winners will take home a free six month supply and the three third place finishers will each be rewarded with a coupon for a future Crystal Farms cheese purchase. Everyone who pre-registers for the contest will also receive a discount coupon for Crystal Farms cheese products to use in their recipe!
Let's get back to the free cheese for a second though. The first ten DudeFoods readers to post the following message to their Twitter or Facebook accounts and then leave a comment on this post with a link to their Twitter feed or Facebook profile (so I can verify that you actually posted it) will each win a coupon for free cheese courtesy of Crystal Farms. The message to post is: Got a great cheese recipe? Register for the #CrystalFarms recipe contest in Lake Mills & get a coupon for free cheese! http://bit.ly/pUriCP
Update: – That was quick! Congratulations to Ben, Kaleb, CT, Haifa, Brad, Christina, Jeff, Mike, Kristen and Jess! A rep for Crystal Farms will be emailing you to ask where to send your free cheese coupon. Didn't win? Crystal Farms is also giving away a year of free cheese every single month to a lucky member of their email list, which you can also find a link to on the contest page.