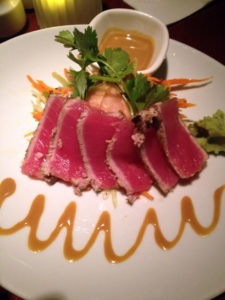 Earlier this year I was invited to a "media dinner" at Fleming's Prime Steakhouse & Wine Bar. The way these types of dinners work is that they invite a bunch of people who write about food, feed them tons of different menu items, give them a bunch of drinks and then in the end it's sort of implied that you'll write something about the restaurant. In other words, media dinners rule!
Over the course of the two and a half hours that I was at Fleming's that night I got to sample their Prime Burger, their seared ahi tuna appetizer, some calamari, their Steakhouse Cobb Salad, tuna mignon, a New York strip steak, their filet mignon, their prime rib and a couple different deserts. All the food was great and I left completely stuffed and possibly a little tipsy from all the free drinks and wine they kept pouring me.
What's really funny about these media dinners though is that I feel like I'm the only one who actually finishes all of my food. Everyone else seems to just try a couple bites of each course before moving on to the next one. Basically, what I'm saying is that if you ever end up at a media dinner you need to show up hungry. I would even recommend skipping lunch that day if possible.
What was even more awesome about the Fleming's media dinner though was that on our way out they handed each of us a couple souvenir wine glasses and a $100 gift certificate to come back for a future visit. I arrived home that night thinking about how great my dinner was, and I told myself that I need to stop back as soon as possible, but then my terrible memory got the best of me and I kind of forgot about the gift certificate until this past weekend when I finally made the trek back to Fleming's.
Once again I started off with the ahi tuna appetizer, and when it came time to order my entree I decided to go with the Steakhouse Cobb Salad and a side of their Chipotle Mac & Cheese. Guys, let me tell you, the Steakhouse Cobb Salad at Fleming's is the perfect meal. Do you know why? Because you can totally convince your wife or girlfriend that you're "eating healthy" yet you still get to enjoy filet mignon, egg, avocado and plenty of bacon.
Another really great deal at Fleming's is their "5 for $6 'til 7" promotion, where until 7pm every single day you can get five different wines, five different cocktails and five different appetizers for only $6 each. The Fleming's Prime Burger (topped with Cheddar cheese and peppered bacon) is also only $6 during this time as well, which is a great deal.
Fleming's currently has 64 locations in 28 different states, so if you're looking to stop in for a delicious dinner or to take advantage of one of their great specials there's a good chance that there's one somewhere near you.