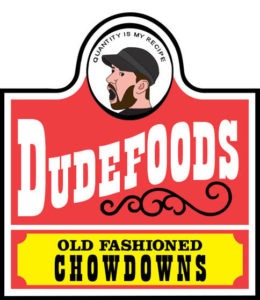 I've been waiting to announce this for a while now, but had to wait until all the paperwork and everything was finalized. Today I'm proud to finally let you all know that DudeFoods.com has been acquired by Wendy's.
What does this mean for DudeFoods? A lot of really great things actually, the main one being that I'm going to be working with Wendy's to come up with some new and exciting items for their new "Bigger is Better" menu, which will be launching immediately at select locations.
The full press release is located below, along with information on the new "Bigger is Better" menu.
Wendy's(R) Acquires DudeFoods.com, Announces New "Bigger is Better" Menu

DUBLIN, Ohio, Apr 1, 2011 (BUSINESS WIRE) — Wendy's is proud to announce the acquisition of popular food blog DudeFoods.com along with the addition of the new "Bigger is Better" menu.
"We've tried going the healthy route with our menu by introducing items such as our Garden Sensations Salads and adding healthier side items such as mandarin oranges, but we just haven't seen the increase in sales numbers that we expected," said Ken Calwell, Wendy's Chief Marketing Officer. "That's why we've decided to form a strategic partnership with DudeFoods.com and work together to create our new 'Bigger is Better' menu. It's clear that our customers are sick of being told to eat healthy and teaming up with one of the most popular sources on the internet when it comes to original oversized food creations will give us the ability to give our customers what they truly want."
The new Wendy's "Bigger is Better" menu will launch immediately in select markets and will be available nationwide this summer. The menu features four new items which are sure to become customer favorites:
Spicy Nugget Garden Salad — A hearty garden salad topped with crispy, all-white meat chicken nuggets, three kinds of peppers and savory spices
Octo-Stack — Eight junior hamburger patties topped off with American cheese, ketchup, mustard, pickle and onion
Chocolate Chunk Chicken Frosty — Cool, creamy and refreshing. Made with real milk and mixed with chunks of our classic all-white meat chicken nuggets
The Heart Stopper — A new sandwich combining three of our most popular menu items; the Asiago Ranch Chicken Club, our Premium Fish Fillet Sandwich and our Bacon Deluxe Single
Wendy's International Overview
Wendy's International is one of the world's most successful restaurant operating and franchising companies with more than 6,600 restaurants worldwide. Wendy's is a subsidiary of Wendy's/Arby's Group, Inc (NYSE: WEN). More information is available at http://www.wendys.com or http://www.wendysarbys.com.
SOURCE: Wendy's International
For Wendy's
Lauren Knox, 614-304-1294
Update: Seeing as how people still randomly contact me about this post I should probably point out that it was an April Fool's Day joke. Seriously though, how awesome would it be if Wendy's actually sold all this stuff? In fact, I actually re-created a few of the fake menu items. Check out the pictures below!