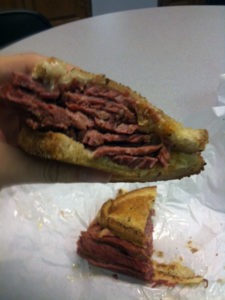 I'd never even heard of Dino's House of Corned Beef until they dropped a stack of their menus off where I work. This happens a lot with restaurants in the area, but when I looked at their menu and saw that they claimed to have the "best corned beef in town" I knew that I had to stop in for a sandwich.
I was a bit confused when I first pulled up to Dino's and saw that their sign read "Dino's Steak & Lemonade." Had they changed their specialty I wondered? Then I noticed that Dino's House of Corned Beef was located directly next door. When I parked my car and walked in I was even more confused. The doors to both places led to the same giant empty room that only contained a mural on one wall and their menu and an area to walk up and order your food on another. They could have easily fit about ten tables in there for people to eat at, but they apparently decided to take a minimalist approach instead.
After waiting about 15 minutes for my food, and being asked twice by someone who I assume was the owner what I ordered, my corned beef sandwich was finally ready. He offered me a free lemonade since the wait was so long, but not being a huge lemonade fan I politely declined. He then told the cashier to give me a free soda instead. I asked for a diet, but "we don't have diet soda" was her response. "Oh, OK, I'll just take my sandwich then" I replied. The owner overheard our exchange and offered to go get me a diet soda. "I'll be right back!" he exclaimed as he headed next door to the convenience store to grab one for me. It was only after I left that I noticed that the convenience store was called Dino's Food Mart. Apparently this guy owns the entire strip mall.
Considering how big they are the corned beef sandwiches at Dino's are a decent deal at $6.50 (or $7 if you want cheese). I think a better price point would be around the $5 range though. They also have an "extra lean" version of their sandwich available for an extra $1.35, but as you can probably tell from my previous blog posts eating healthy isn't necessarily something I strive for, so I went with the regular corned beef sandwich instead. I'm not sure if these sandwiches are necessarily the best in town, but they certainly come close. The corned beef was amazingly juicy and was actually better than the two sandwiches I tried at Irish Fest a month prior.