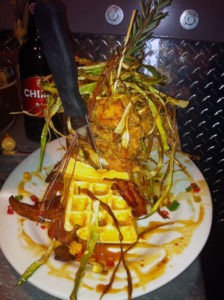 I took a trip to Las Vegas recently and when I asked for recommendations on great places to eat in Sin City the first response I got was from Dan who along with his wife Melissa runs a great Wisconsin food blog called A Duo of Chefs. He told me that I needed to try Hash House a Go Go, and after I checked out the restaurant's website and took a quick glance at their menu I knew that I had to eat there. Their slogan is "twisted farm food," and with selections like pancakes with Frosted Flakes in them and mac & cheese with duck this description couldn't be more dead on.
Hash House a Go Go was the first stop I made in Vegas and it turned out to be the perfect way to start my trip. I ordered Andy's Sage Fried Chicken & Bacon Waffle Tower, which consists of four waffles (with bacon actually cooked into them) topped with two huge pieces of breaded chicken covered in hot maple reduction (a fancy name for maple syrup) and fried leeks. My first thought when our waitress brought the food was that I couldn't believe that they could make something as simple as chicken and waffles look so appealing. Looks can be deceiving however, so I immediately dug in.
Normally I'm not a fan of fried chicken, but the chicken at Hash House a Go Go was cooked perfectly and the addition of the waffles and bacon made this the perfect dish. On top of that they also sold Chimay, which is my all-time favorite beer and is usually pretty hard to find in bars and restaurants. The only real downfall I can find with Hash House a Go Go is that everything sounds so delicious that it's tough to decide what to order, which isn't a bad problem to have at all.
Thanks for the tip Dan!