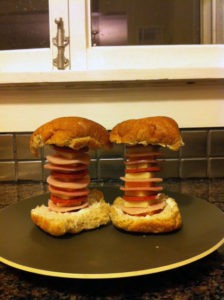 Don't you just love it when you're at a party and they have an entire table covered with things like Swedish meatballs, chips and dip and deli trays filled with numerous kinds of meats and cheeses?
What are you supposed to do though when you're the one that hosted the party and when you wake up the next day you realize all the food was eaten except for about two pounds out of the three pound meat and cheese deli tray that you bought from Sam's Club?
I came across that problem recently when my wife and I had some family over for Christmas. Sure, I could have spent an entire night with the deli tray and a box of crackers making a million little sandwiches, but I'm a busy guy and don't have time for stuff like that. That's why I grabbed some mini whole wheat buns that we had and started making these delicious party stackers.
Each stacker was composed of equal parts smoked turkey, smoked ham, pepperoni and Cheddar, Swiss and Pepper Jack cheeses, and boy were they good! Plus, with sandwiches of this caliber you can easily knock out a pound of meat and cheese in little to no time at all!