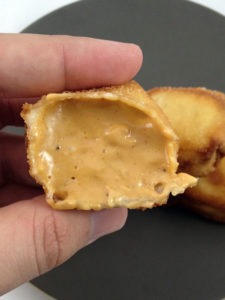 I was thinking recently about the deep fried butter that was all the rage at state fairs across the country this past summer and how hard it would be for them to top that next year. I mean, what's more ridiculous than deep fried butter right? Then it suddenly came to me… deep fried mayonnaise! Surely there's nothing that could possibly outdo that right? Oh, but there's one thing that can, and that one thing is deep fried Baconnaise!
For those of you who have never had the pleasure of trying Baconnaise (and if the name itself doesn't make it completely obvious as to what exactly Baconnaise is) it's basically mayonnaise with an artificial bacon flavoring added to it. Now, you might think that combining mayonnaise with bacon would leave you with the most unhealthy sandwich spread in the world right? The funny thing though is that Baconnaise is actually healthier than regular mayonnaise. Granted, it only has ten less calories and one less gram of fat per serving, which with how unhealthy mayonnaise is for you doesn't make much of a difference at all, but at least it's a step in the right direction right?
The way that I was told that deep fried butter was made was that they'd freeze squares of butter, wrap them in wonton wrappers and then as they were deep frying the butter cubes would melt. I decided to take the same approach with my deep fried Baconnaise so I grabbed an ice cube tray, filled it with the smoky flavored spread and placed it in my freezer overnight. The next day I retrieved the Baconnaise cubes, popped them out of the ice cube tray and started encasing them in wonton wrappers.
After about five minutes in my deep fryer I had six delicious looking cubes of deep fried Baconnaise. Looks can be deceiving however, and I'm sad to report that the deep fried Baconnaise tasted absolutely terrible. What was once the perfect mix of salty and smoky instead just tasted somewhat burnt. Then again, Baconnaise was never meant to be eaten on its own, which aside from the wonton wrappers I basically did here. Don't get me wrong, it's not that Baconnaise isn't awesome, it's just that DEEP FRIED Baconnaise isn't so great.