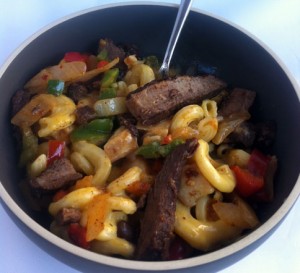 You've been able to buy frozen T.G.I. Friday's food at the grocery store for years now, but up until now what was mainly available were larger portions of some of their more popular appetizers. This changed recently however when they decided to launch their new frozen line of 'Entrées for One.'
T.G.I. Friday's was nice enough to hook me up with a bunch of their new frozen meals to try out, and you know what? They're pretty good. It seems like with most frozen meals I see at the grocery store there's such an emphasis on eating healthy, which in turn usually leads to extremely small portions and bland taste. That isn't to say that these new T.G.I. Friday's frozen meals are bad for you, but you can tell that they didn't sacrifice quantity or taste just so they could claim that their meals are healthy like some companies do.
There are nine new entrees altogether, but I'd have to say that my two favorites are their Sizzling Steak Fajitas (seared beef steak, bell peppers and onions with a side of cheesy rice) and their Grilled Chicken Mac & Cheese (white meat chicken and cavatappi pasta in an American cheese sauce topped with Cheddar, Romano, Parmesan and Monterey Jack cheeses).
In fact, I liked these two entrees so much that I decided to combine them together and make some steak & chicken fajita mac & cheese. It actually worked out pretty well since the cheesy rice that comes along with the Sizzling Steak Fajitas is separated from everything else in the plastic tray, so all I did was warm everything up and then combine the steak, peppers and onions with the Grilled Chicken Mac & Cheese and then stir everything up.
Unlike most frozen meals the new 'Entrées for One' from T.G.I. Friday's will most likely fill you up, but if you happen to be extra hungry just try combining a couple of them into one dish like I did. You can thank me later. If you don't feel like doing that I guess you could always beer batter and deep fry some Lean Pockets, but trust me, this is a lot less work.