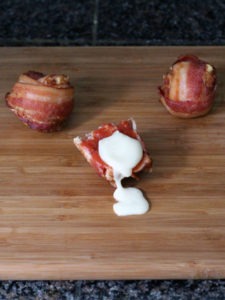 This was my backup plan for the Foodbeast pizza challenge that I participated in a couple weeks back when I made my Sweet and Sour Chicken Pizza.
At the time I wasn't sure how well the deep fried white rice crust that I wanted to use for the pizza would turn out — spoiler alert: it turned out perfect — so I came up with this pizza version of the Deep Fried Bacon Wrapped Peanut Butter Balls that I made back in June.
This time, instead of peanut butter I dropped chunks of mozzarella cheese in an ice cube tray and covered them in pizza sauce. Once they were frozen I popped them out, coated them in flour, dipped them in an egg wash and rolled them around in Italian-style panko breadcrumbs. I then wrapped each one in bacon and deep fried them for a few minutes. at 375º.
I tried to think of something I could dip these in when I ate them — just because I'm accustomed to dunking any sort of handheld appetizer type food into something —  but seeing as how they were already stuffed with pizza sauce and melted mozzarella the Deep Fried Bacon Wrapped Pizza Balls were already pretty perfect on their own.