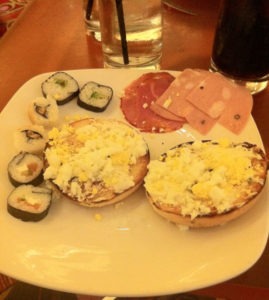 You can't come to Las Vegas without heading to at least one buffet, so on my last day in town I decided to check out Cravings, which is the the all you can eat buffet located inside the Mirage. I've been to plenty of buffets in my lifetime, but this was easily one of my favorites. It was $25.95, so it was a little pricey, but with eleven different cooking stations encompassing food from every part of the globe they make it pretty easy for you to get your moneys worth.
For my first plate I decided to start off light, so I grabbed some sushi, a bagel that I covered with sour cream and chopped up hard-boiled eggs and finally a side of assorted meats. After finishing that plate I noticed that the buffet had a panini station, so I had them make me a breakfast panini with eggs, ham and cheese.
Even after the bagel covered in eggs and breakfast panini I was still in the mood for more breakfast food, so for my third plate I grabbed a breakfast burrito (which I covered in guacamole), some eggs Benedict and two chicken skewers. After polishing that off I headed back for my fourth plate, which consisted of scrambled eggs, bacon, cottage cheese and French toast.
After having my fill (get it!?) of breakfast items I made one final trip up to the buffet and grabbed some Japanese steak salad, some curry chicken, a vegetable egg roll and a slice of pizza. Believe it or not this is actually a little less than I usually eat when I go to a buffet, but I had a long plane ride back home to Milwaukee ahead of me, and being completely stuffed while sitting for three and a half hours on a cramped plane isn't exactly my idea of a good time.