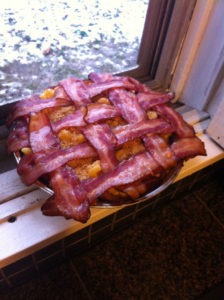 Macaroni and cheese is one of my favorite foods. I love how something so simple can be so delicious. It's one of those dishes that even people who are terrible at cooking can whip up with no problem at all. When the Wisconsin Milk Marketing Board asked me to be a part of their second annual 30 Days, 30 Ways Macaroni & Cheese Blog to celebrate National Cheese Lover's Day I immediately jumped at the opportunity.
They asked me specifically for a "DudeFoods inspired" macaroni and cheese recipe and one of the first ideas that came to my mind was a macaroni and cheese pie with bacon. Using an actual pie crust seemed a little too easy however, so I decided to make the pie crust itself out of bacon, fill it with macaroni and Colby Jack cheese and then use even more bacon to create a lattice top, similar to what you often see with traditional pies.
When it came time for me to decide which bacon to use for my dish it was a no-brainer. I wanted to stick with a Wisconsin theme so I chose Nueske's, which has been providing the world with delicious meats since 1933. I've also noticed that their bacon seems to shrink a lot less than most other bacon when you cook it, which is essential when you don't want any open gaps between the bacon slices in your bacon pie crust.
I'm far from great when it comes to cooking, so the bacon crust was a little challenging, but luckily my buddy Jeff from EatWisconsin.com helped me out with plenty of cooking tips. Without him and the help I got from my wife this creation of mine probably would have turned into a huge burnt disaster, but thanks to them it actually turned out perfectly.
To create the bacon crust I took a pound of Nueske's Thick-Sliced Peppered Bacon and created a bacon weave on a sheet of aluminum foil. I then flipped the bacon weave into a pie tin and patted it down before placing another pie tin on top of it so it would keep its shape when cooking. I also put together the lattice top (this time using Nueske's Applewood Smoked Bacon) at the same time and put it in the oven along with the crust so that when the macaroni and cheese was done cooking on the stove I could fill the mostly cooked bacon crust with it, add some breadcrumbs, cover it with the lattice top and then throw it back in the oven to finish cooking. Once the pie was all done I let it cool on the window sill for a little while and then dug in!
Interested in trying to duplicate this awesome creation for yourself? Just head on over to the 30 Days, 30 Ways Macaroni & Cheese Blog for the full recipe and more detailed cooking instructions!