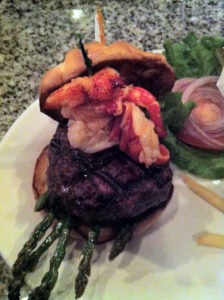 I've wanted to stop at Burger Bar the past couple times I've been in Las Vegas, but never ended up making it over to Mandalay Bay to eat there until my most recent trip. In fact this time I didn't even want to chance missing it again so I pretty much headed over there as soon as I was checked into my hotel room.
The signature burger at Burger Bar is the Rossini, a $60 Kobe beef burger topped with sautéed foie gras and shaved truffles. As much as I wanted to try it I couldn't justify spending that much on a burger, especially since I hadn't done any gambling yet. I did tell myself however that if I had a big win I'd come back and order one. Unfortunately luck wasn't on my side this trip and I never made it back to Burger Bar.
In lieu of the Rossini I decided to try the Surf and Turf Burger, a Black Angus burger topped with a grilled half lobster and grilled asparagus. I may never get a chance to try the Rossini, but I was pretty happy with my dinner choice. I've never though of lobster as a burger topping before, nor have I ever seen any restaurants offer it as one, but it worked perfectly. The burger patty was already juicy, but having the juices from the lobster drip down onto it with each bite made it even better.