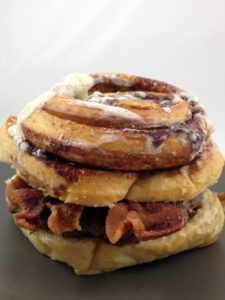 I usually only listen to the radio for about 30 minutes a day — 15 of them on my way to work in the morning, and the remainder during my drive home each night. More often than not my car stereo in the mornings is tuned to Kramp & Adler on FM 102.1.
One day a couple months ago they were talking about how great a burger with a Cinnabon as a bun would be. I don't even remember the context of the rest of their conversation, or why they were even talking about it, but I remember thinking what an amazing idea it was.
I totally forgot about it until I was in the food court at the mall this past weekend and smelled the sweet, sweet aroma that comes from the small corner occupied by Cinnabon. I still hadn't eaten yet and I was on my way out so I decided to grab a Cinnabon to go and make this dream a reality.
Once I was back at home I grilled myself a nice half pound burger and fried some bacon. You know, because this burger wasn't already going to be unhealthy enough as it is…. All that was left to do after that was slice my Cinnabon in half and assemble my burger.
The one downfall, and trust me, there's only one because my Cinnaburger was absolutely delicious, is that it was pretty impossible to eat thing thing like a normal burger. I ended up having to cut it with a knife and fork.
On the plus side, normally by the time I'm done taking pictures of the stuff that I make for my blog and I start eating it the food doesn't taste quite as amazing as it should just because it's been sitting around for ten or fifteen minutes. For every minute my Cinnaburger sat on my counter however the burger patty seemed to soak up more and more frosting, making each bite better than the last.
Now if you'll excuse me I need to go make an appointment with my doctor, because I'm pretty sure that my blood pressure shot up about 100 points immediately after finishing my meal.