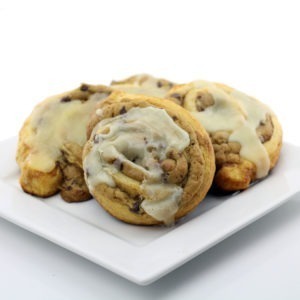 I came up with this idea a while back after I saw a photo of someone who did something similar with strips of bacon. Then, this past weekend after going to the grocery store to buy cookie dough and a package of cinnamon rolls I went online only to discover that multiple people have already made Chocolate Chip Cookie Stuffed Cinnamon Rolls.
Oh well, I had already invested $6 in this little experiment and honestly, looking at the photos of the ones that other people had made sort of made me want them even more.
One of the best parts about making these is how extremely simple they are. I started off by unrolling some cinnamon roll dough and then using a rolling pin to roll out sheets of chocolate chip cookie dough, which I then cut to the exact same length and width as the cinnamon rolls. Next, I placed the cookie dough strips on top of the cinnamon roll dough, rolled them up and placed them on a baking sheet.
Funny side note — up until now I've never owned a rolling pin. I would always just use beer bottles, which is a great excuse to drink more beer because you never want to put a bottle back in the refrigerator after it's been covered in flour, or dough or whatever it is that you're rolling out. I've gotta say though, that after finally biting the bullet and buying a rolling pin that they work much better than beer bottles in situations like this!
The instructions for both the cookies and the cinnamon rolls called for both items to be baked at 350°, which worked out perfectly. They also said to bake the cookies for 9 – 13 minutes and the cinnamon rolls for 12 – 16 minutes, so I decided to throw them in my oven for 13 minutes and that ended up being the perfect amount of time.
Do you like the smell of cookies baking in the oven? Alright, now combine that smell with the smell of fresh cinnamon rolls. Even before I took a bite of one of my Chocolate Chip Cookie Stuffed Cinnamon Rolls the sweet scent that they filled my entire house with made it all worth while. Once my cinnamon rolls were out of the oven all it took was a drizzle of frosting over each one and they were ready to eat!
If I had to describe them in one word it would definitely be amazing. Either that or delicious. Maybe I can just combine those two words and call them amazious. That's how you can tell when something is really great, when you have to invent news words to accurately describe it.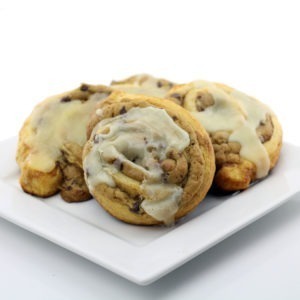 Chocolate Chip Cookie Stuffed Cinnamon Rolls Recipe
Nick @ DudeFoods.com
Looking for a super unique dessert idea that's simple to make? Try these cinnamon rolls that are stuffed with chocolate chip cookies!
Ingredients
1

roll

pre-made chocolate chip cookie dough

1

can

cinnamon rolls
Instructions
Preheat your oven to 350°F.

Flatten out your cookie dough with a rolling pin until it's about 1/4" thick.

Open your can of cinnamon rolls and one by one lay them on top of the flattened cookie dough and trace alongside them with a knife.

Roll up your cinnamon rolls and bake for 15 minutes.

Drizzle the included cinnamon roll frosting on top of your cinnamon rolls.