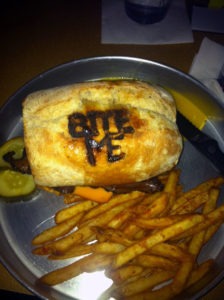 Considering that Bunker's has already been featured on the Travel Channel's "Best Places I've Ever Been" and has also been written up in numerous local publications there probably isn't too much I can say about it that hasn't been said already. I'm actually not even sure how I missed the boat on this place, but I'm glad I finally got a chance to stop in for dinner.
I've professed my love for burgers with eggs on them before so when I looked at the menu and saw Brad's Barnbuster Burger — named after the head chef at Bunker's — I knew that I had to try it. The half pound Angus burger is served on a ciabatta roll and is topped with onions, bacon, smoked cheddar cheese, tomato jam and an over easy egg.
The burger as a whole was great and was easily one of the best burgers I've eaten in a while. It was also quite messy. It was so messy in fact that about half way through eating it I had to completely abandon trying to finish it with just my hands and switch to using a knife and fork. What really set it apart from most typical bar burgers however was the house-made tomato jam that it was topped with. It added a sweetness to the burger that wouldn't have otherwise been there had they taken the easy route and used ketchup instead.
While enjoying my burger I couldn't help myself when it came to looking around to see what other diners were eating and almost everything else I saw looked equally as good so I can definitely predict a return trip to Bunker's in the near future.