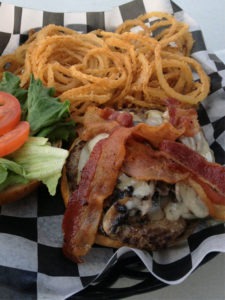 I've discovered some of my favorite burgers around the Milwaukee area by just randomly stopping to eat at interesting looking places as I'm driving by. The perfect example of this happened one day recently as I got lost while trying to find a place to buy some landscaping rock for my backyard.
As I drove around aimlessly I passed a small, unassuming bar / restaurant named B-1 Burger. I still hadn't eaten so I decided to put my fieldstone search on hold for a little bit and stopped in for lunch.
While everything on the menu sounded delicious, nothing really stood out to me until I noticed the Black Truffle Butter Burger — a 1/3 pound ground beef patty topped with black truffle butter, apple-wood bacon, Gruyère cheese, sautéed mushrooms, onions, lettuce and tomato.
As I took my first bite of the burger I suddenly began to praise my terrible sense of direction, because without it I never would have ended up in the tiny village of Thiensville eating this mouthwatering burger. On top of that, the pile of onion strings I added for an extra $1.50 was almost another meal in itself.
Normally when I'm eating a meal that I plan on blogging about I'll take a total of ten or so pictures just in case some of them don't turn out. With this burger I took a total of two pictures before I started eating it and before it occurred to me to take any more all that was left in front of me was an empty basket. If that's not an indication of how good the burgers at B-1 are I'm really not sure what is.