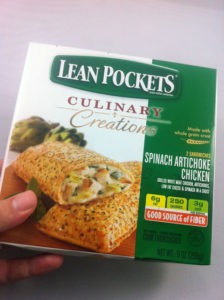 Guys that are married or live with their girlfriends should be able to relate to me on this one. You know how sometimes when your significant other handles the grocery shopping she'll end up spending $100 or $150 on food, yet there still seems to be nothing good to eat in the house? This happens to me on a regular basis, so I know it must also be happening to some of you as well. As a matter of fact, it just happened to me again this past week, but after digging through our cabinets, refrigerator and freezer for about five minutes I came upon some spinach, artichoke and chicken Lean Pockets that my wife bought for herself and decided to eat those.
Now don't get me wrong, I love Lean Pockets, but it seems like even if I eat the two of them that come together in a box I still end up hungry afterwards. This time I decided to try something a little different than just tossing them in the microwave for two minutes though — I decided to deep fry them! I started off by mixing up some of the same beer batter that I used with the deep fried fruits and vegetables. After that I plugged in my deep fryer, waited until the oil was boiling, coated the Lean Pockets in beer batter and tossed them in!
After cooking for about seven or eight minutes my Lean Pockets were a delicious looking golden brown so I took them out of the deep fryer, let them cool for a couple minutes and then started eating. The outer beer battered shell definitely added a nice amount of sustenance that these 250 calorie Lean Pockets just don't otherwise have. As I finished eating them a strange feeling came over me that I almost never feel while eating Lean Pockets… a feeling of fullness. That's right, I was actually full!