I've made Bacon Wrapped Meatloaf plenty of times before, but every time I've taken a bite of it I've always felt like it was missing a little something. Well, it turns out that "something" is Sriracha Ketchup!
Last month when I posted my recipe for Bacon Cheeseburger Egg Rolls I mentioned that the makers of Red Gold are now producing Sriracha Ketchup, Sriracha Salsa and Sriracha Diced Tomatoes & Red Chilies.
I used the Diced Tomatoes & Red Chilies in those egg rolls — and dipped them in the Sriracha Ketchup as well — but this recipe is where the Sriracha Ketchup really shines!
Not only did I mix some of the ketchup in with the ground beef I used for my meatloaf, but I also brushed the bacon weave with it as well, so with every single bite I got a nice little spicy kick. Don't want yours quite as spicy? No problem, just mix a little less Sriracha Ketchup in with the ground beef but I'm telling you, once you taste this stuff you're not going to be able to get enough of it!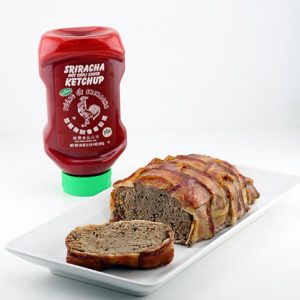 Bacon Wrapped Sriracha Ketchup Meatloaf Recipe
Nick @ DudeFoods.com
Bacon wrapped meatloaf is great on its own, but adding Sriracha Ketchup takes it to another level!
Ingredients
1

pound

bacon

2

pounds

ground beef

1

bottle

Sriracha Ketchup

2

eggs

1

onion

diced

1/2

cup

breadcrumbs

salt and pepper

to taste
Instructions
Preheat oven to 350°F

Weave all the slices of bacon together.

In a large bowl combine the ground beef, 1/2 cup Sriracha Ketchup, eggs, diced onion, breadcrumbs, salt and pepper and mix well.

Place meatloaf mixture on top of bacon weave and form into a loaf.

Roll bacon weave around meatloaf and flip over so the ends of the bacon are tucked under the bottom of the loaf to prevent curling while in the oven.

Bake for 1 hour.

Remove meatloaf from oven. Spread Sriracha Ketchup evenly over top. Return to oven; bake an additional 15 minutes or until internal temperature reaches 160°F.