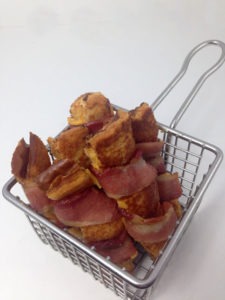 I keep thinking that one day I'll get sick of eating so much bacon, but amazingly it still hasn't happened. In fact, as time goes by I only seem to be growing more and more fond of it as I keep incorporating it into more of my meals, which with how much I already eat doesn't even seem like it should be possible.
Recently I came up with an idea to make some grilled cheese sticks, but after a quick Google search I found that tons of people have already made and written about that same exact thing. What I didn't see though were any grilled cheese sticks that were wrapped in bacon!
Do you know what's even better than how great these Bacon Wrapped Grilled Cheese Sticks taste? How easy they are to make! Then again, pretty much everything I make is easy because I have absolutely zero cooking experience whatsoever.
Alright, so you want to make your own Bacon Wrapped Grilled Cheese Sticks? Start off by frying up a couple grilled cheese sandwiches and then cutting each sandwich into for or five pieces. Then, wrap bacon strips around your grilled cheese sticks and to finish things off you can either drop them in a deep fryer for 45 seconds or so, or just put them on a baking sheet in your oven for 17 minutes at 375°.
I'm pretty sure I've yet to come across a food that isn't better when it's wrapped in bacon. It's not only  the addition of bacon that makes it good though, it's the fact that as the grease drips from the bacon it's usually soaked up by whatever it is that the bacon is wrapped around.