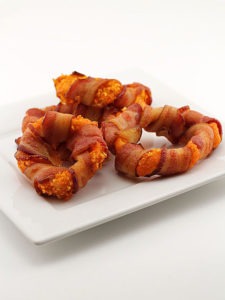 A little over a year ago I made some Doritos Crusted Chicken Strips — which were awesome by the way — and seeing as how that post still gets tons of views I'm always trying to think of new foods that could benefit from a crispy Doritos breading.
I've already followed the original recipe up with Doritos Crusted Bacon and a Doritos Breaded Burger, but this time I wanted something more than just a Doritos breading. Seeing as how I'm a terrible cook though I went with one thing that I actually know how to do extremely well — wrapping things in bacon! Plus, as I already learned from the Doritos Crusted Bacon, Doritos and Bacon go together like an old lady and 17 cats. (Sorry, I'm as terrible at analogies as I am at cooking)
To make these Bacon Wrapped Doritos Breaded Onion Rings I grabbed a sweet onion, removed the peel and sliced it horizontally into rings that were each about an inch thick. I then coated each ring in flour, dipped them in an egg wash, rolled them around in some crushed up Doritos and wrapped them in bacon which I secured with some toothpicks. After that I just popped them into my 375° oven for 25 minutes.
Even though they were absolutely amazing I'd still be hard pressed to choose a favorite between these and my various other Doritos-breaded creations — in a way I guess it would be like asking a parent which of their children they like best. I on the other hand don't have any kids, so these Bacon Wrapped Doritos Breaded Onion Rings, the Doritos Crusted Chicken Strips, these are my children and I love them all equally….