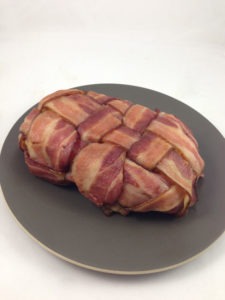 What do you do when you want a breakfast burrito, you're out of tortillas and you have a freezer full of Nueske's bacon? You grab a pound of it, weave it into a giant square and use that instead! Alright, so it wasn't quite that easy, but in the end my bacon weave breakfast burrito still turned out even better than I'd hoped for.
After creating my bacon weave I cooked it in my oven for ten minutes at 375º just to get it to the point where the bacon was sort of starting to stick together. Then I took it out, drained the grease and topped the bacon weave with a pile of scrambled eggs, cheese, hash browns, chopped up breakfast sausages and diced red and green bell peppers. After that I folded it into a burrito, wrapped it up in aluminum foil and put it back in the oven for another 25 minutes.
Once my bacon weave breakfast burrito was done cooking I unwrapped it from the aluminum foil, let it cool for a few minutes, took a couple pictures and then picked it up to take a bite. I realized pretty quickly though that removing the aluminum foil in the first place was a pretty bad call and that after one bite it would probably completely fall apart, so I wrapped it back up, cut it in half and started eating it the same way you would with any other giant burrito.
My final verdict? Pretty, pretty good! It would be really difficult to eat if it wasn't wrapped in aluminum foil, but then again, most huge burritos are. Alright, so what's next now that I've made a bacon weave breakfast burrito, bacon weave pizza, a bacon weave grilled cheese and a mac & cheese pie with a crust made entirely out of bacon? Only time will tell….